Knowledge Exchange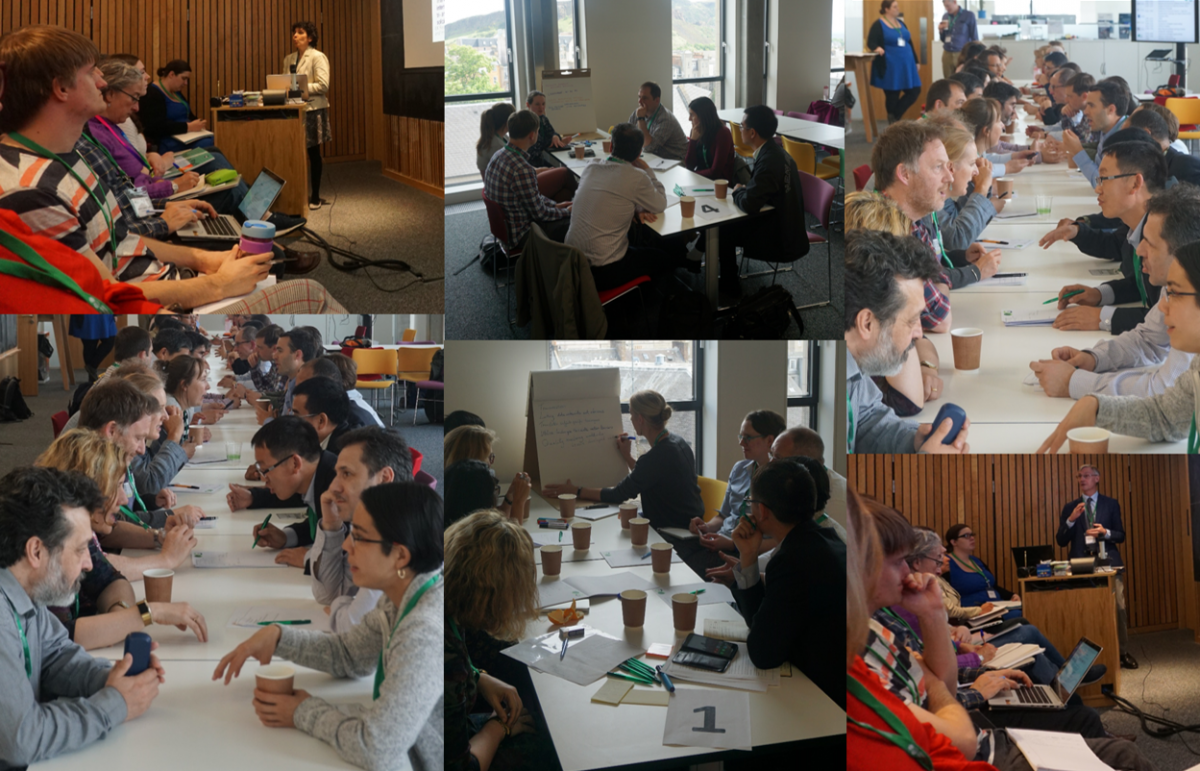 2019 Ecology and Evolution of Infectious Diseases: Partnership Building Workshop
ICMS workshops facilitate Knowledge Exchange (KE) amongst mathematicians, other scientific disciplines and industry, so that mathematics may be exploited by, and bring benefits to, the widest possible community.
KE at ICMS can take many forms including industry-led applications sessions, cross-discipline participation, public lectures, schools' events and exhibitions. Our KE events are tailored to suit the unique characteristics of our workshops. Increasingly, ICMS hosts meetings separate from the workshop programme that look to support collaboration between industry and academia and provide training for Early Career Researchers. We are keen to engage with academics and industrial partners to discuss ideas and shape future activities.
More information on each of these initiatives will appear in due course. Funding is currently available for some of the KE activities listed below, follow the links for more information about each of them. If you have any questions, please email Knowledge Exchange.
Activities include, but are not limited to:
Academia/Industry Meetings
These meetings bring together academics and industrialists in a particular area to form communities, strengthen collaborations and advance research. ICMS provides these focussed 2-day meetings with the necessary infrastructure, time and administrative support to form a solid basis for long-term collaboration.
More information and how to apply
Modelling Camps
Postgraduate research students and early career mathematical sciences researchers are the main audience for modelling camps. They are offered broad skills training and an opportunity to learn how different branches of mathematics can be applied in various industrial settings. Real problems proposed by industrial partners are used to develop ideas within study groups and each group gives a presentation at the end of the camp. In May 2020 and 2021 we successfully delivered this activity online.
The dates for the 2022 Modelling Camp are the week beginning 16 May 2022.
Applications to attend the 2022 modelling camp are now closed, but sign up to our newsletter to be the first to hear about any 2023 events or check back here.

ICMS Modelling Camp 2019
KE Community Support Activity
ICMS view community/partnership building as a vital aspect of what we do. This can be communities/partnerships between mathematical disciplines, cross discipline, with industry, government and third sector organisation.
These activities are focussed on supporting the mathematics academic community in its efforts to engage with opportunities/industry/government initiatives. Open to academics, knowledge exchange professional, industry and government representatives we plan to hold a meeting in Spring 2022.
If you have any questions or an idea for a community event, please email Knowledge Exchange.
Virtual Forum for Knowledge Exchange in Mathematical Sciences (V-KEMS)
In partnership with the  Isaac Newton Institute (INI), Newton Gateway to Mathematics and Knowledge Transfer Network (KTN), ICMS have worked with various representatives from the mathematical sciences community to develop a Virtual Forum for Knowledge Exchange in the Mathematical Sciences (V-KEMS). The main aim is to identify a range of virtual approaches that will help address challenges from business and industry, the third sector, and other groups outside academia. The forum was established in April 2020, shortly after lockdown, and has enabled a wide range of activity to happen online. There has been a significant focus on challenges presented by the current pandemic. 
ICMS continues to work with our VKEMS partners to deliver online activity. In addition, work will commence on an exciting Connected Centres KE Network project which will scope out visions for future pan-UK collaboration. Wide consultation is anticipated, look out for further announcements!
For more information on this initiative please visit the VKEMS website.
Post KE event delivery support
ICMS has funding to support activities post KE event. This could be report writing, finishing of priority tasks agreed in the event, undertaking actions to further collaboration/partnerships, or enable implementation of meeting output.
It is suggested that applicants discuss plans with ICMS Knowledge Exchange before applying.