Organising Committee
Omololu Akin-Ojo,

ICTP-EAIFR

Tanniemola Liverpool,

Bristol

Christie Marr,

Isaac Newton Institute

Frank Neumann,

LMS and Leicester
About:
The African Institute for Mathematical Sciences (AIMS), British Society for the History of Mathematics (BSHM), ICTP-East African Institute for Fundamental Research (ICTP-EAIFR), Institute of Mathematics and its Applications (IMA), International Centre for Mathematical Sciences (ICMS), Isaac Newton Institute (INI), London Mathematical Society (LMS) and Mathematical Association (MA) held a two day conference on Black Heroes of Mathematics.
The Vision of the conference was 'To celebrate the inspirational contributions of black role models to the field of Mathematics and Mathematics Education'. There was a balance of technical talks by internationally renowned black speakers that included some detail of career paths and experience to provide a testimonial dimension.
ZOOM Webinar was used to host this event from the ICMS Lecture Theatre.
Speakers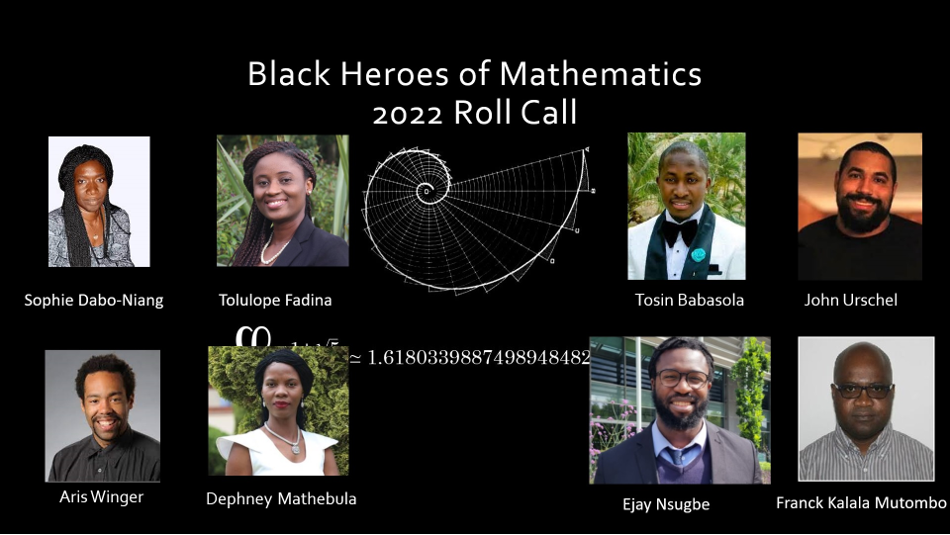 | | | |
| --- | --- | --- |
| Tuesday 4 October | Session 1 | |
| Sophie Dabo-Niang, University of Lille | On the enlightened path of an African woman in mathematics | |
| Tolulope Fadina, University of Essex | How inclusive is the maths curriculum? | |
| Tosin Babasola, University of Bath | Role of mathematics in understanding the growth of cocoa crops? | |
| John Urschel, Harvard | Matrix Analysis in Action | |
| Tuesday 4 October | Session 2 | |
| Panel Discussion | Dr Ollie Folayan, Dr Juliet Ojiako, Dr Yolanda Ohene, Prof Nicole M. Joseph, Tomi Akingbade and Dr Luke Davis | |
| Wednesday 5 October | Session 1 | |
| Aris Winger, Georgia Gwinnett College | The Need for Black Role Models and Representation in Mathematics | |
| Ejay Nsugbe, Nsugbe Research Labs | On Prediction Machines & Clinical Medicine: Case Studies from a Black Cyberneticist and Mathematician | |
| Dephney Mathebula, University of South Africa | My career journey as a Mathematician | |
| Wednesday 5 October | Session 2 | |
| Franck Kalala Mutombo, University of Lubumbashi | High-order numerical schemes for semi-linear advection reaction equations based on discontinuous Galerkin method and Rosenbrock-type methods | |
| Panel Discussion | Dr Ollie Folayan, Dr Adejimi Adeniji, Dr Robin Wilson, Dr Howard Haughton, Celia Fraser, Dr Lassina Dembele, Prof Tanniemola Liverpool and Dr Megel Barker | |
Sponsors and Funders:
Collaboration between